My first English cookbook: Fuel Your Day!
I'm so excited to share with you my first book in English, 
Fuel Your Day
! In Fuel Your Day! I share my favorite recipes for healthy energy-filled, high-fibre treats with no added sugar or fat. Whether it's an energy muffin for your child's lunchbox, an energy bar for your post-workout recovery, or a healthy and delicious cake for a potluck or holiday party, this book is filled with 100 incredible recipes to fuel you and your family all year round – all made with my signature date puree.  (Note: this is a translated and adapted version of my first cookbook in French, 
Ces galettes dont tout le monde parle.
)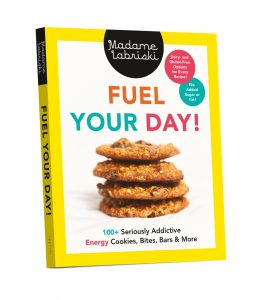 The book is now out!
Order : Indigo Amazon.ca Amazon.com Barnes and Noble